12 mai 2015
2
12
/

05
/

mai
/

2015
08:03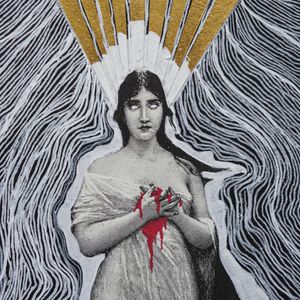 von Stroheim - EP Sing for Blood
Aus nie geklärten Gründen verließ Erich von Stroheim um 1910 herum seine Heimatstadt Wien.
Et il a abouti à Bruxelles, sans doute?
Son fantôme en tout cas...
Dominique Van Cappellen a le chic pour choisir des labels inusités, on l'a connue Naifu ( un couteau fermant traditionnel japonais), déjà avec Raphaël Rastelli à la guitare, puis Keiki ( un rejet poussant sur la hampe d'une orchidée) , avec le même Raffaello, ni peintre, ni jongleur.
Baby Fire ne fréquente pas encore le kindergarten et In Heaven, même s' il semble toujours en période hibernatoire, n'a pas encore rejoint Ásgard, quant à LAS vegas, son actualité signale la sortie d'un album homonyme début avril.
Revenons à von Stroheim featuring Raphael Rastelli (guitar), Christophe Van Cappellen (voice, drums) et Dominique Van Cappellen (voice, guitar, theremin) et au EP Sing for Blood !
Quatre titres que les protagonistes nous proposent de qualifier de cinematic doom!
Comme toujours Dominique Van Capellen-Waldock soigne la présentation de l'objet en confiant, cette fois-ci, la confection de l'artwork aux bons soins de l'artiste David Crunelle.
On a droit à une pochette symboliste du plus bel effet.
'The Tree' ouvre.
L'arbre: "les troubadours, conteurs et poètes de toutes les époques le chantent comme l'axe du monde, la flamme de la vie, le pont du ciel, l'image de l'éternelle vigueur. De par sa verticalité, l'arbre est le lieu sacré où le ciel s'enracine à la terre. .."
L'arbre signe de vie, donc, et pourtant cette plage de plus de sept minutes, sur fond sludge, d'une lenteur de char d'assaut modèle Renaut FT 17, habillée par les vocaux hantés de la dame, évoque plutôt l'angoisse et l'épouvante que l'allégresse et l'espoir.
von Stroheim nous avait mis sur la voie en indiquant 'The Tree' features samples from 'Fear in the Night' a 1947 American low budget black-and-white film noir mystery film directed by Maxwell Shane and starring Paul Kelly and DeForest Kelley.
Pas de rapport avec un autre long-métrage featuring Charlotte Gainsbourg!
' Sacrificial lamb'
Puis Dieu désigna un bélier à la place d' Isaac. Ainsi le bélier mourut au lieu et à la place du fils d'Abraham.
D'aucuns avancent Neurosis, Jarboe ou Hexvessel en guise de comparaison... pourquoi pas, nous on sait que Dominique entretient des liens étroits avec Dana Schechter ( Bee and Flower), une jeune personne proche de Michael Gira et, forcément, de Jarboe.
Et l'agneau?
Il n'a pas été sacrifié à Broadway, mais ça ne rigole pas des masses, les vocalises illuminées de Dominique et la lourdeur imposante du fond sonore amènent tes neurones à confectionner des estampes pas roses.
L'étiquette haunted rock s'applique à cette plage torturée.
'In her Loneliness'
Mise en garde, it features samples from ʺThe stranger" from Orson Welles (1946), it is the first Hollywood film to present documentary footage of the Holocaust!
OK, si tu préfères 'The Sound of Music' avec Julie Andrews, on déconseille!
Ici, également, le chant monotone, atone, se greffant sur les thick and sick guitar riffs, caractéristiques du funeral doom, produisent un effet de tension extrême.
Faut aérer la pièce, on étouffe ici.
'Pale Man'
Une dernière tranche de satanic rock minimaliste où les instants de silence ont autant d'importance que la plainte sinistre et malsaine psalmodiée par la voix féminine sur background âpre et dépressif.
von Stroheim - EP Sing for Blood: un disque sans concessions pour amateur de paysages désolés, de répétitions lancinantes, de voyages introspectifs..
PS: von Stroheim se produit au Café Central ( Bruxelles) le 13 mai.